May 7, 2019
Dear ILSA members,
I must inform you sad news. Dr. Sadamu Ishikawa, the President of ILSA, passed away on April 30th at the St. Elizabeth's Hospital. According to E-mail from his son, Mr. Sam Ishikawa, they were talking and joking while waiting for some test results at the hospital and he closed his eyes to rest a while before he passed. It was very sudden and unexpected for them and the staffs.
I was quite shock when I heard the sad news, because I thought he was in rehabilitation according to his last E-mail in this February. I first met him at the 3rd ILSA conference in New Orleans in 1978. Since then, for more than 40 years, we met at the ILSA conference every year. Since 2008, he has served as President of ILSA. Dr. Ishikawa has participated in every ILSA conference and presented his own papers in every conference. He continued to be a lung sounds researcher to the last.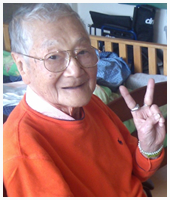 The following is an excerpt from his autobiography, "ISHI THE LEFTY".
"Then I met Dr. Raymond L.H. Murphy, who became my teacher of lung sounds. He is a sort of a crackpot, trained at Harvard, with Doctor of Science degree, who organized International Lung Sounds Association (I.L.S.A.) 35 years ago, which became independent from the too-large (more than 5,000 members) American Thoracic Society. With the original help of Dr. Murphy, I have been able to participate, almost in all I.L.S.A. activities for the past 30 years. Membership of I.L.S.A. is half made up of engineers and the other half by physicians — about 100. The group operates on a shoestring budget. By participating in I.L.S.A., I was able to give talks in most of the European countries as well as Canada, Mexico and Japan. Yoshi traveled with me to most of the meetings abroad. We made more friends all over the world. I was elected to be the President of I.L.S.A., after I had organized a successful meeting in Boston in 2008."
He was such a great person. We will never forget about him. May his soul rest in peace and comfort
Shoji Kudoh, M.D.
Scientific Steering Committee Member, ILSA
Chairman of the Board of Directors, Japan Anti-Tuberculosis Association
skudoh@jatahq.org
September 26, 2014
Dear Members of the International Lung Sounds Association,
Sadly, as some of you may already know, ProfessorRiichiro Mikami passed away on September 1, 2014. He was 89 years old.
Dr. Mikami founded Japanese Lung Sounds Association in 1983 and annual meetings have continued to this day. He was the president of the 10th International Conference of Lung Sounds (ILSA)in 1985 in Tokyo. He performed a historical international symposium on nomenclature of lung sounds with Dr. Robert G. Loudon and Dr.Raymond L. H. Murphy (Chest 1987; 92: 342-5). He was one of the best original contributors of our ILSA.Dr. Mikami led Department of Respiratory Medicine, Nara Medical University, and recruited talented faculty, trained dozens of fellowsand made great contributions to pulmonary medicine.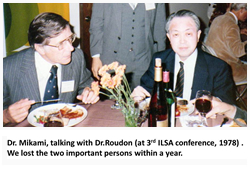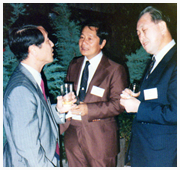 To honor Dr. Mikami's legacy, and with the encouragement and solace forMrs. Mikami and his family, we will perform "Dr. Mikami Memorial Reception", November 9, 2014 in Tokyo. We invite you - colleagues of the ILSA who knew Dr. Mikami, to send a message to the address as bellow. Weare looking forward to hearing from you.
Shoji Kudoh, M.D.
Chairman of the Board of the Directors, Japan Anti-Tuberculosis Association
Suido-bashi Building 5F, 1-3-12 Misakicho Chiyoda-ku, Tokyo, Japan 101-0061
Fax: +81-33292-9250
E-mail: skudou@jatahq.org