September 26, 2014
Dear Members of the International Lung Sounds Association,
Sadly, as some of you may already know, ProfessorRiichiro Mikami passed away on September 1, 2014. He was 89 years old.
Dr. Mikami founded Japanese Lung Sounds Association in 1983 and annual meetings have continued to this day. He was the president of the 10th International Conference of Lung Sounds (ILSA)in 1985 in Tokyo. He performed a historical international symposium on nomenclature of lung sounds with Dr. Robert G. Loudon and Dr.Raymond L. H. Murphy (Chest 1987; 92: 342-5). He was one of the best original contributors of our ILSA.Dr. Mikami led Department of Respiratory Medicine, Nara Medical University, and recruited talented faculty, trained dozens of fellowsand made great contributions to pulmonary medicine.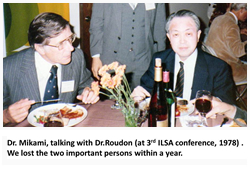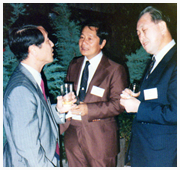 To honor Dr. Mikami's legacy, and with the encouragement and solace forMrs. Mikami and his family, we will perform "Dr. Mikami Memorial Reception", November 9, 2014 in Tokyo. We invite you - colleagues of the ILSA who knew Dr. Mikami, to send a message to the address as bellow. Weare looking forward to hearing from you.
Shoji Kudoh, M.D.
Chairman of the Board of the Directors, Japan Anti-Tuberculosis Association
Suido-bashi Building 5F, 1-3-12 Misakicho Chiyoda-ku, Tokyo, Japan 101-0061
Fax: +81-33292-9250
E-mail: skudou@jatahq.org